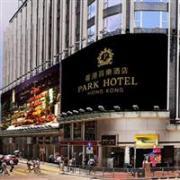 The elegant Park Hotel Hong Kong is celebrating its 50th anniversary with a 50% discount promotion. Guests who book a room will receive a 50% discount on the 3rd night and guests who book a suite will receive a 50% discount on the 2nd night. After applying the discount, average nightly rates start from HKD1,083 (USD138) for a Superior Room. This promotion is available until December 31, 2011.
Average rates for other room types are HKD1,208 (USD155) for a Deluxe Room, HKD1,625 (USD208) for a Premier Room, and HKD2,125 (USD272) for a Deluxe Suite. Quoted prices are average nightly rate over a 2 or 3 night stay including the discount and 10% service charge. The discount is only applicable to 1 night per booking. Full pre-payment by credit card is required and no refunds or changes are permitted.
The Park is a four-star hotel located in the Kowloon district of Hong Kong. The hotel's 347 guestrooms and suites have been recently refurbished and feature an elegant décor and all the modern amenities like satellite TV and in-room internet access.
For more information or to make an online booking, visit the Park Hotel Hong Kong website at www.parkhotelgroup.com/phhk. The hotel can also be contacted by calling (852) 2731 2100 or emailing info.phhk@parkhotelgroup.com.