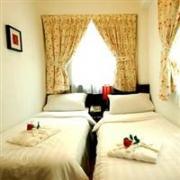 Nightly rates start from just HKD291 (USD37) for a Standard Room when you make an online booking at the Bridal Tea House Hotel. This chain of budget hotels has 10 locations across Hong Kong including Kowloon, Aberdeen, and the Western District. The quoted price is a room-only rate and subject to 10% service charge. These prices are available through December 22, 2011.
The quoted price of HKD291 (USD37) is for a Standard Room at the Bridal Tea House Hotel @ Apleichau. Deluxe Rooms start from HKD427 (USD55). Room rates at other locations range from HKD445-900 (USD57-115). Cancellations must be made at least 48 hours before arrival to avoid any penalty charges.
The Bridal Tea House chain of budget hotels offers comfortable accommodations at the lowest prices in Hong Kong. All rooms are furnished with your choice of 1 double or 2 twin beds and have a TV with satellite channels, mini-fridge, phone, and ensuite bathroom. Complimentary internet access is available in the guestrooms and hotel lobby.
Visit http://www.hkchhotel.com for more information or to make an online booking.