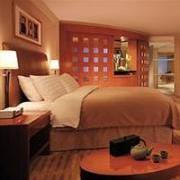 Enjoy the perks of a Premier Room at a special price of HKD2,600 (USD333) during the "Premium Premier" promotion at the Shangri-La Kowloon. The rate includes five-star accommodations, breakfast buffet for two people, complimentary internet and local calls, welcome tea and fruit plate, plus limousine transfer to the airport. This promotion is available until September 30, 2011.
The "Premium Premier" package requires a minimum stay of 2 nights. The quoted price of HKD2,600 (USD333) is for accommodations in a Premier Room. The nightly rate for a Horizon Premier Room is HKD3,200 (USD410). All room rates are subject to 10% service charge.
The Shangri-La Kowloon is an award-winning five-star hotel located in the heart of Hong Kong's shopping and entertainment district. The hotel's 688 guest rooms and suites are the height of luxury with spacious design, state-of-the-art amenities, and bay windows overlooking Victoria Harbor. The Shangri-La's facilities include a fitness center, indoor swimming pool, and some of Hong Kong's finest international restaurants.
Visit the Shangri-La Kowloon website for more information or to make an online booking. The hotel can be contacted by calling (852) 2721 2111 or emailing ksl@shangri-la.com.