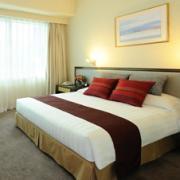 Book your stay at the South Pacific Hotel in Hong Kong to enjoy discounted room rates plus free internet access and shuttle service. Online rates start from HKD800 (USD102) for a Standard Room, HKD900 (USD115) for a Classic Standard Room, and HKD1,100 (USD125) for a Modern Standard Room. A 10% service charge is additional. This is an on-going promotion.
Exact room rates vary by date and will be higher during peak times. Rates are based on single or double occupancy. A baby cot is available for no additional charge.
The South Pacific is a 4-star business class hotel located in central Hong Kong. Its 299 guestrooms are available in 6 categories, all of which are comfortably furnished with one or two beds, TV, DVD player, mini-bar, work desk, electronic safe, telephone, and ensuite bathroom. All guests enjoy complimentary internet access and shuttle service to the Hong Kong Convention Centre, Airport Express station, and Star Ferry Pier.
Visit http://www.southpacifichotel.com.hk/ for more information or to make an online booking. The South Pacific Hotel can be contacted by calling (852) 2572 3838 or emailing info@southpacifichotel.com.hk.