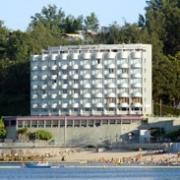 In celebration of the Mid-Autumn Festival, the Warwick Hotel Hong Kong is reducing their room rates to just HKD790 (USD102) on weekdays and HKD950 (USD123) on Saturdays. Promotional rates are for a Hill View Room and include breakfast for two. An additional 10% service charge applies. These promotional rates are available until October 31, 2011.
Promotional rates are subject to availability. Regular rates are HKD950 (USD122) on weekdays and HKD1,300 (USD168) on weekends.
Located on Cheung Chau Island, the Warwick is one of Hong Kong's few beachfront hotels. The 66 guestrooms have been recently refurbished and pair a contemporary style with modern amenities and stunning views of the hills or sea. Facilities include a swimming pool, outdoor sports, spa, and a restaurant serving international cuisine.
Visit http://www.warwickhotel.com.hk/ for more information. Bookings can be made by calling (876) 3176 6312 or emailing sales@warwickhotel.com.hk.