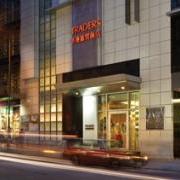 With a minimum stay of 2 nights at the Traders Hotel Hong Kong, guests enjoy free internet and late check-out plus one of the following perks: one-way airport transfer, HKD250 (USD32) dining credit, or a harbor cruise tour for 1 person. Nightly rates start from HKD1,000 (USD128) plus 10% service charge for a Superior Room. This is an on-going promotion and available until further notice.
Rates for other room types start from HKD1,100 (USD142) for a Deluxe City View Room, HKD1,250 (USD160) for a Deluxe Harbor View Room, HKD1,350 (USD173) for a Traders Club Room, and HKD2,400 (USD307) for a Suite. The quoted prices are the lowest rates available through November 30, 2011, and may be higher during peak periods. The dining credit is not valid for breakfast and the airport transfer is for 2 people by shuttle service.
The Traders Hotel is a 4-star international class hotel located in central Hong Kong. Its 280 guestrooms and suites offer the perfect blend of style and amenities with LCD TV, internet access, comfortable furniture, and sweeping views of the harbor or city. Guests who stay in a Traders Room have access to the Traders Lounge with complimentary snacks and beverages throughout the day. Hotel facilities include a swimming pool, fitness center, restaurants, and business services.
Visit http://www.shangri-la.com/en/property/hongkong/traders for more information or to make an online booking. The Traders Hotel Hong Kong can also be contacted by calling (852) 2974 123 or emailing thhk@tradershotels.com.