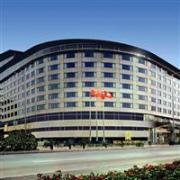 Enjoy a good meal and a good night's sleep with the "Dinner and Accommodation Package" at the Regal Airport Hotel in Hong Kong. The nightly rate starts from HKD1,800 (USD230) and includes a complimentary upgrade to a Premier Room, buffet dinner at Cafe Aficionado, internet access, and shuttle service to the airport. This promotion is available until further notice.
The package includes dinner for one person. Additional buffet dinners can be added at a special price of HKD248 (USD31) per person. All room and restaurant prices are subject to 10% service charge.
The Regal Airport Hotel offers 1,171 modern guestrooms and full facilities in a convenient location near the Hong Kong International Airport. It was awarded the title "Best Airport Hotel in the World 2011" by Skytrax. It is the perfect place to relax before or after a long flight and offers a flexible 24-hour stay period regardless of check-in time. The hotel's business center, gym, and in-room dining are available 24 hours a day
Visit the Regal Airport Hotel Hong Kong website at http://www.regalhotel.com/regal-airport-hotel/ for full details about this and other promotions. Reservations can be made online, by emailing rah.rsvn@regalhotel.com, or calling (852) 2286 8688.