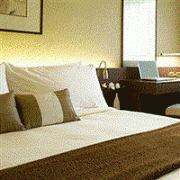 Make a direct online booking with the City Garden Hotel in Hong Kong and receive a free breakfast buffet, in-room internet access, and room upgrade. Rates start from HKD1,000 (USD128) for a Deluxe Room which will be upgraded to a Premier Room. Guests who book 4 nights or longer save an additional 20%. This promotion is available for bookings until October 31, 2011.
Room rates vary by date and the quoted price is the lowest rate available during the promotional period. All room rates are subject to 10% service charge. This promotion includes buffet breakfast for one person. Additional buffet breakfasts are available at a special price of HKD80 (USD10) plus service charge.
The City Garden is an international business-class hotel located on the edge of Hong Kong's bustling Causeway Bay shopping and entertainment district. The hotel offers 613 rooms with a contemporary décor and modern amenities like satellite TV, mini-bar, and complimentary broadband internet access. Facilities include a 24-hour gym and swimming pool, restaurants and bars, and shuttle service to the Hong Kong Expo and Convention Center.
Visit the City Garden Hong Kong Hotel website for more information or to make an online booking.