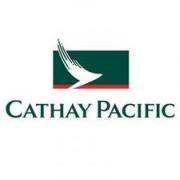 Cathay Pacific Airlines offers the lowest fares for direct flights from the USA to Hong Kong. Promotional round-trip fares are just USD896 from New York, USD953 from Los Angeles, USD981 from Chicago, and USD1,000 from San Francisco. Quoted prices are economy fares inclusive of taxes and surcharges. Promotional fares are available for travel now through December 31, 2011.
The quoted prices are the lowest round-trip fares available during the promotional period. Fares are available until sold out and may be higher on certain dates. Once the ticket has been booked, a fee of USD100 per passenger will apply for any changes or cancellations.
Cathay Pacific Airways is the flag carrier of Hong Kong and flies to more than 50 destinations worldwide. It is a full-service airline and fares include on-board entertainment, meals, beverages, and a checked luggage allowance of 20kg for economy class passengers.
Visit www.cathaypacific.com/ for more information or to make an online booking. Promotional fares are only available for electronic ticketing.