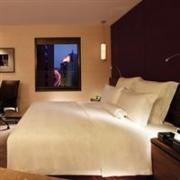 Until September 15, 2012, the Eaton Hotel is offering free tours of Hong Kong. Simply book a room at their best available rate, and enjoy a complimentary harbor cruise, tour of Temple Street / Jade Market, and a tai chi class. Nightly rates start from HKD1,000 (USD128) for a Superior Room or HKD1,100 (USD140) for a Deluxe Room. All rates are subject to a 10% service charge.
The quoted price is the lowest rate available during the promotional period. Rates for Club Rooms start from HKD1,400 (USD180) and Suites from HKD1,900 (USD245). Buffet breakfast can be added for a special price of HKD110 (USD14) per person.
The Eaton Smart Hotel is a 4-star hotel located in Hong Kong's vibrant Kowloon district. The hotel offers 465 guestrooms equipped with all the modern amenities plus a business center, restaurants, fitness center, and an outdoor heated swimming pool. Shuttle service to the Hong Kong International Airport is available.
Visit the Eaton Smart Hotel website at http://hongkong.eatonhotels.com/ to make an online reservation. The hotel can be contacted by calling (852) 2710 1828.