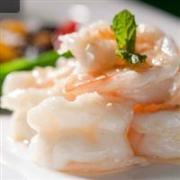 Feast on dim sum, Hong Kong's most famous food, at the two Michelin-starred Cuisine Cuisine Restaurant at the Mira Hotel. The all-you-can-eat dim sum lunch promotion costs HKD198 (USD25) per person and is available weekdays from 12:00pm to 2:30pm. Children under 3 eat free. The price does not include 10% service charge, beverages, or condiments.
The dim sum menu at Cuisine Cuisine Restaurant is a mix of classics and contemporary creations. Sample barbecue pork buns, steamed shrimp dumplings, crispy spring rolls with chicken and mushrooms, turnip cake in XO sauce, rice flour rolls, and other bite-sized dishes. Dessert selections like egg tarts, red bean soup, and chilled mango pudding are also included.
Visit the Cuisine Cuisine website for more information. Reservations for the dim sum lunch buffet can be made by calling (852) 2315 5222 or emailing cuisinecuisine@themirahotel.com. The dim sum lunch buffet is not available on weekends or public holidays.