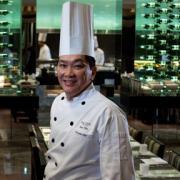 Yamm Restaurant at the Mira Hotel Hong Kong is offering a gourmet lunch buffet for only HKD208 (USD26.50) per person. The lunch buffet is available weekdays from 12 – 2:30pm. The restaurant is also offering a special promotion until June 30, 2011, that a group of 4 diners will only be charged for 3 buffets. Reservations can be made by calling (852) 2368 1111.
The promotion is only valid for the lunch buffet Monday to Friday. It will not be available on April 22 & 25, May 2 & 10, or June 6. The promotion is restricted to a maximum group size of 12 people (3 free meals). Children age 3 – 11 will be charged at a lower rate of HKD128 (USD16). All restaurant prices are subject to service charge of 10%.
Yamm is an international restaurant with daily buffets and an a la carte menu. The offerings for the lunch buffet span the globe and include salads, soups, fresh sushi and sashimi, sandwiches, roast meats, Japanese teppanyaki, classic Hong Kong dishes like chicken rice and fried noodles, plus a wide selection of desserts.
More information about Yamm Restaurant can be found on the dining section of the Mira Hotel website. Reservations can be made by calling (852) 2368 1111 or emailing yamm@themirahotel.com.