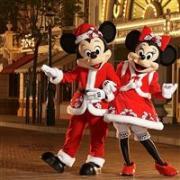 Celebrate the holiday season with "A Sparkling Christmas" festivities at Hong Kong Disneyland. The theme park will offer Christmas decorations, traditional Christmas menus, appearances from special characters, and a fireworks display every day from November 18, 2011 – January 1, 2012. One-day tickets cost HKD399 (USD50) for adults and HKD285 (USD36) for children.
Two-day tickets cost HKD499 (USD64) for adults and HKD355 (USD45) for children. The child price applies for children age 3 to 11. Children under 3 are free. Discounts are also available for senior citizens over 65.
"A Sparkling Christmas" is an annual tradition at Hong Kong Disneyland. This year features whimsical decorations at Christmastown, the opening of the new Toy Story Land attractions, a procession of your favorite Disney characters with singing and dancing, and nightly pyrotechnics show at Tinkerbell's Castle.
Visit http://park.hongkongdisneyland.com/ for more information. Tickets can be purchased in online or at the park.