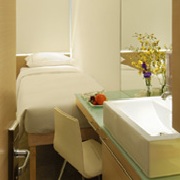 Hotel Bonaparte by Rhombus is offering their Business Rooms at a special price of only HKD550 (USD70) plus 10% service charge. The "Summer Sunshine" promotion is available for stays until August 31, 2011, subject to availability. Hotel Bonaparte is a cozy boutique hotel with 82 guestrooms. It's located in Hong Kong's Wan Chai district with easy access to shopping, dining, and attractions.
The rooms at Hotel Bonaparte make efficient use of their small space and manage to fit in all the modern amenities like TV, electronic safe, mini-bar, and a work desk. Business Rooms are located on the 6th floor and higher and measure about 10 square meters. Hotel facilities include a coffee shop, internet café, and self-serve laundry facilities.
Visit the Hotel Bonaparte website at http://www.hotelbonaparte.com.hk/ for more information or to make an online booking. The hotel can be contacted by calling (852) 3518 6688 or emailing sales@hotelbonaparte.com.hk.