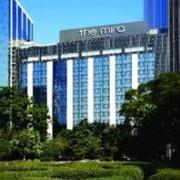 The 5-star Mira Hotel has a new package especially for business travelers to Hong Kong. Starting from HKD2,390 (USD307) per night, the package includes a City Room, breakfast at award-winning Yamm restaurant, internet, local calls, welcome amenities, and airport pick-up by hotel limo. A 10% service charge is additional. The "Best in Business" package is available until December 31, 2012.
Rates are based on single or double occupancy. The package can be upgraded to a Club City Room for an additional HKD1,000 (USD130) per night. The free airport pick-up by hotel limo only applies for stays of 2 nights or longer.
The Mira is a 5-star hotel located in central Hong Kong on vibrant Nathan Road. Its 492 luxurious rooms cater to every modern need and offer a 40" TV, Blue-Ray player, iPod dock, in-room computer, and mobile phone. Facilities include personalized concierge service, Michelin-starred restaurants, an indoor pool, fitness center, spa, and business center.
Visit http://www.themirahotel.com/ for more information or to make an online booking. The Mira can be contacted by calling (852) 2315 5606 or emailing reservations@themirahotel.com.